Imagine yourself soaking in a Russian hot tub despite the war, or surfing with your mates in Sydney. You can do all this and more from the comfort of your home when integrated into the Metaverse.
A new digital world. It's physically realistic and virtually fantastic! Let's log in!
What Is Metaverse?
ME-TA-VER-SE! META-VERSE? METAVERSE. An alternate reality. A virtual reality. A digital reality. A fun reality.
It's not a new term and yes, it's here to stick around for quite some time. It's a new world where everything and anything is possible – all those unimaginable instances of being a war hero, or a lost princess of the woods, or meeting your friends for a skydiving trip and experiencing everything like it's the first.
This feature of Web3 brings an exciting mode of interaction to the web, making the internet a democratically free, open, and safe space.
The concept and design of this new world is par native human imagination and comprehension; but isn't it amazing to have the technology to make our thoughts and idea tangible?
The term 'Metaverse' was first coined and introduced by Neal Stephenson in his 1992 comic 'Snow Crash'. His idea of the metaverse was a simple universe in 3-D, where players across the globe could interact.
So let's explore the anatomy of the digital ecosystem!
When Is the Metaverse Going to Be Launched?
The honest answer is a sad answer. For all those who are too eager to enter and experience a new artificial universe – do be patient. We vow its prominent 3-D graphics shall give you an out-of-the-world experience!
The metaverse as a concept is in its budding stages and will be launched when it's ready.
As for the Facebook Meta, Mark has released a statement that Meta, as in the metaverse will be mainstream in another 5-10 years' time.
The Technology of the Virtual World
The technology for the metaverse is primarily inspired and derived from the most important utility of the Metaverse – Gaming.
Gaming incorporations such as Microsoft Xbox and Sony PlayStation have come up with so many immersing games and iterations of their hardware through upgrades on their tech, some require specialized gear to play them.
Thus commencing the period of 'Wearable Tech' or wearable technology. Technology that can be worn by users/players to interact in the game.
This allows players to feel the game in 3D with their fancy VR gear, giving a real-life feeling with a 360° surround view and a Dolby sound that guarantees an unforgettable experience.
Considering the simple fact that Metaverse is an online universe, you can easily access it from your laptop, tablet, or your phone.
But to get exposure to the 3D world around you, will require gear to enhance all the details and motion of all things present in the coded artificial world.
Now, here's the exciting bit. Remember I told you gamers have wearable tech? The wearable tech helps them immerse themselves into their avatar in the metaverse and everything feels so real? They can sense whatever happens.
Well, the same applies to Metaverse gear too. What's more? You can use the same gaming gear for metaverse too! 1 gear is all it takes. You have the best of both worlds in your hands – Metaverse and VR Games.
Nonetheless, there are other metaverse devices that give you a wide variety of options to choose from. There is some augmented reality hardware to give you a feeling of mixed reality, and then, there are glasses that immerse you into a world of impossible possibilities. Experiencing more, in the real world, with augments of the virtual world.
How Will Metaverse Change the World Wide Web?
Popular consumer-oriented companies have already taken the first steps to establish a virtual spirit.
Some metaverse platforms are being built on blockchain, implying an open, secure networking space for all Metaversers.
This would clearly mean that finance in the metaverse would lead with DeFi technology and ledgers are open, strict, and clean without any secrecy of black money lingering in-between.
Apart from the merit of clean financial transactions; the metaverse can be a new universe to host a lot of activities – such as businesses, schooling, community meetings, and much more!
Metaverse Use Cases
The digital universe has more to offer than a drastic shift to connecting with people and a version of reality. The most important use cases of this new world are:
Businesses:
 The fact that you can hold business meetings from India for your Korean clients who are dealing with the Singapore firm is so relieving! Who else can manage a journey across the globe and manage to keep going on with 4 coffees and an unkempt jet lag?
One can conduct business meetings – a prime business activity all senior officials are made to conduct/ participate in. While meetings take away a lot of time in preparing the room and traveling to the meeting place.
You get to save your time and office space and attend meeting on-site online. One can also conduct workshops, discussions, and other gatherings that save time for all
Studying
Ever wanted to attend a course in another country but finances came in your way? Well, what if you can attend it without visa processes and flight/ accommodation expenses? That's what the metaverse brings to you. Limitless opportunities for growth and experience of a new world.
You can attend classes from the metaverse and any timezone comfortable to you. Whether you have insomnia or SCID, studying through the metaverse makes it a delightful experience. You get a lot more than just normal schooling.
Real Estate
You've spent every Sunday searching for your perfect dream home and going on rides for site visits is tiring. Now imagine, you're able to visit each and every room of your potential dream home. You can walk through every nook and corner of the house that's enlisted for sale. This is easily possible when you've logged in through your headgear and integrated your avatar into the metaverse.
Travel
You're a young twenty-something working youngster who hustles and as much as everyone needs a good break, you're always broke! You can still take a workcation or a vacation from your office through an AI-powered platform. Immerse yourself into the new world and explore all that you want.
You can visit the Eiffel tower of Paris, the Christ the Redeemer statue from Rio, or an old Japanese temple – all from the comfort of your home!
Fitness
You're a fitness freak who's been cycling and running on the treadmill at the gym – all that movement and you haven't moved ahead in your life!
Well, what if you can? The artificial universe is designed for you to be able to have a realistic yet amazing fitness experience.
You can cycle through the Friendship Highway in China or La Ruta de Los Conquistadores of Costa Rica… maybe the North Sea Cycle Route in Europe, or try something eastern and take the Shimanami Kaido route in Japan!
Soon, you can participate in the TCS New York City Marathon too! Virtually, of course!
Shopping
Online shopping has made its niche in the digitalized world. Shopping online can be made immerse through AR and VR. A simple headgear or AR glasses can transport you to the meta-shop and you can avail information about the product that you purchase.
Video Games
How can one not talk about Video Games when we bring up the topic of the Metaverse?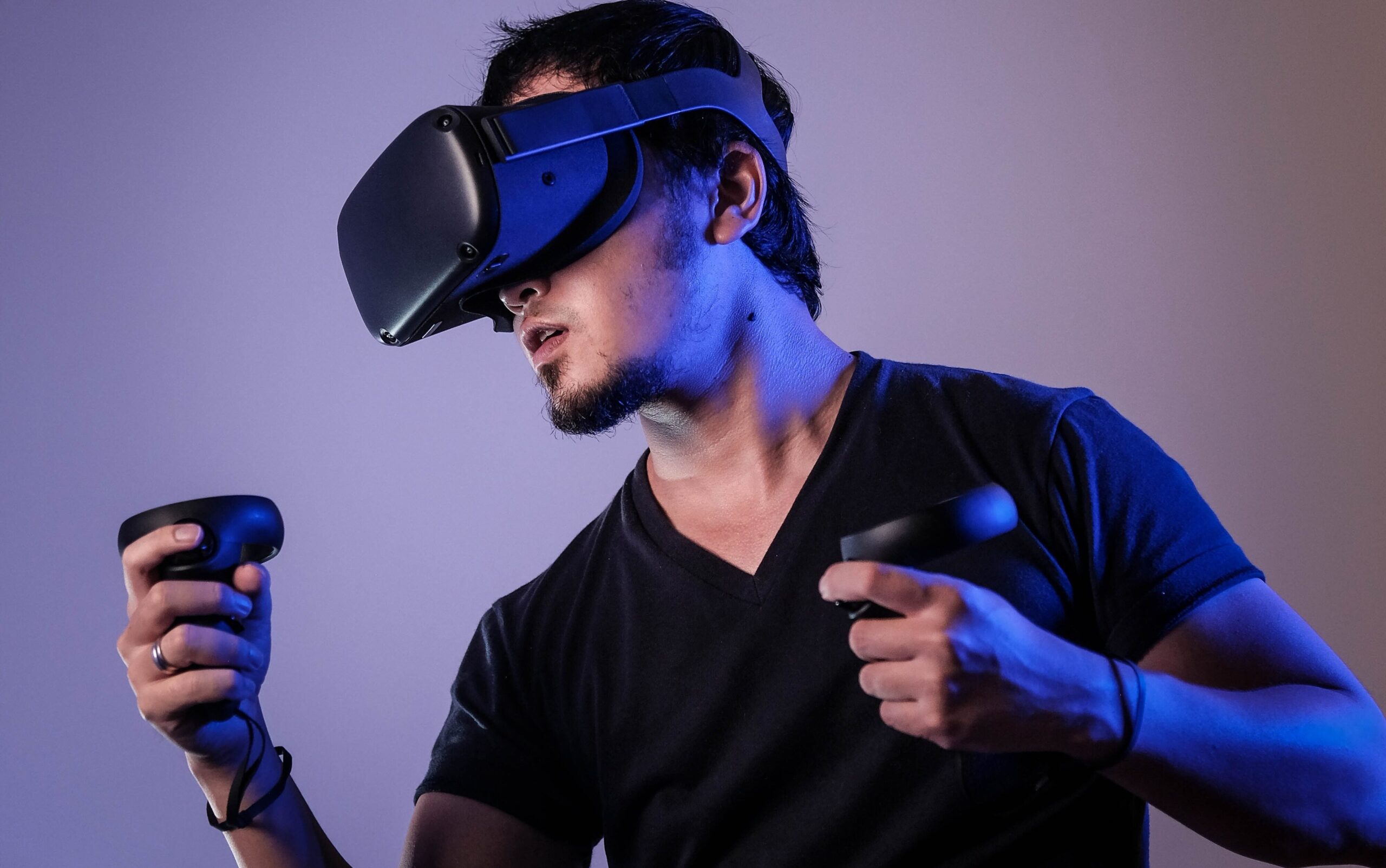 Video Games were the pioneers in ensuring an enthralling experience for players across the globe. They get to form guilds, go on quests, and chat with each other.
Bringing players across the globe a little closer, providing a fun escape from reality, and letting them be creative with their avatars.
Sony has already brought in its PS5 with VR tech and gear accessories to play the games. We're going to be looking at fun in a new digital light.
All in all, you can manage your school while traveling, conduct your business online at the Metaverse, travel to new places without expenses and a visa (and not be an illegal tourist!), and double your investments as you lease your land for a celebrity party, only at the Metaverse!
How to Join the Metaverse?
Well, the first thing you got to know before you join the metaverse is – Which metaverse are you looking toward joining?
THE METAVERSE. It isn't one place, and it definitely isn't one virtual universe only. They are many universes, many worlds; and you get to choose which world you want to enter, live, and experience a new world around you.
The Metaverse is merely an idea of a universe where everyone and everything can exist virtually; thus eliminating the problem of time-space constraints. But this virtual world is not one, but many.
Many incorporations are creating their version of the metaverse, some decentralized, some crypto, some for games, some for fun, some business, and some, just because!
However, the most sought-after Metaverse is going to be that of Meta. Meta, the rebranded iteration of Facebook, is now focusing on providing a virtual world in 3D for its users to engage in an out-of-the-world experience.
You simply need to understand which metaverse works for you perfectly, a crypto-based metaverse? Are you trying to go VR/AR for games only? Are you hosting your official meetings?
Depending on the cause and future utility of the metaverse in your life, you can enter into a digital world as you fancy.
Getting into the metaverse is as simple as creating your profile, and sometimes, linking your digital wallet for transactions in the world.
And while you enjoy your experiences, don't forget to utilize the metaverse to your benefit – buy a piece of land and lease it to digital brands.
Was that a jaw-drop moment for you? Well, me too. Everyone loves a good investment, So, let's look into some insights on investing in the metaverse.
How to Invest in the Metaverse?
The Metaverse is a large collection of things – digital people experiencing the digital world. Now, what are the chances of an entrepreneur willing to establish their shop in the metaverse?
It's as good as establishing an online market while providing your customers with experiential marketing. They get to experience the product/ service, first-hand, although miles apart.
The year 2021 saw a drastic change toward investing in cryptocurrencies and purchasing digital assets in the form of NFTs. 2022 sees a new perspective to invest in – the metaverse.
Financial experts such as Goldman Sachs, Morgan Stanley, and Citibank forecast a shift in investing; that the market value for Metaverse will reach a value of $8-13 trillion by the end of 2030.
Some believe that cryptocurrencies and tokens will be the predominant payment method in the digital sphere. Having invested in crypto may pay off sooner or later.
The 3-dimensional version of the internet is a promising place for investors, businesses, and corporations.
One must realize there's a lot more to investing in the Metaverse apart from virtual marketplaces. 3 fruitful ways to invest in the metaverse are:
Buying Metaverse Tokens,
Purchasing NFTs in the Digital Universe
Metaverse stocks.
Buying Metaverse Tokens
Buying metaverse tokens such as MANA from Decentraland or SANA by Sandbox are the latest hype as they made their mark as the top 10 cryptocurrencies to invest in, during 2021.
It is speculated that most of the decentralized platforms may adopt metaverse crypto to barter goodies and experiences. Someone may buy an NFT from the digital marketplace or someone may buy a piece of land, someone may even access premium features.
But, it's vastly possible you can avail all of these with your Metaverse Tokens. So, which metaverse token are you going to use?
Confused? Let me clear it out. As the fact stays that many companies and corporations are building their own Metaverses, they're also working on their own metaverse tokens to use in the digital space. Metaverse crypto is the next big thing you have to be aware of!
Some of the metaverse tokens investors are looking out for are:
MANA – the token for Decentraland, by Decentraland,
SANA – the token built by Sandbox,
AXS – the token for Axie Infinity
MVI – Metaverse index Token,
ATLAS – the token by Star Atlas, a VR gaming metaverse
ENJ – Enjin Coin.
Purchasing NFTs in the Digital Universe
Metaverse NFTs and in-game NFTs are a great way to spread your assets over the digital world of DeFi. Sandbox is a metaverse platform that guides you in the purchase of NFTs in the metaverse.
NFTs from metaverses are speculated to provide high resale value. In addition, secondary marketplaces aid in comparing prices and information on certain NFTs you're interested in.
There's no suggestion as to why minting NFTs is a bad investment ploy for the future. If you feel you aren't investing because you didn't buy a 'Stock'; you are always welcome to buy a Metaverse stock.
Metaverse Stocks
You can always choose to invest in companies that are selling stocks of their metaverse, or the gaming universe. Companies such as Nintendo, Facebook, Google, Nike, Tinder, and Microsoft are all in for the competition of who can create the best version of an alternate ecosystem for our species to co-live in.
Facebook, or Meta as per its rebranded name; is known to have invested in the idea of Metaverse for a very long time. Meta had acquired Oculus with the aim to build hardware and software for the new world where the 'Metamates' can meet in a Virtual Reality
Facebook has initiated the plans for FB, the Facebook tokenized stock. They are tokenized versions of shares and stocks to the company and work as same as a normal share that's brought in the marketplace.
A merit of the tokenized stock is, that you can opt to buy a part of it instead of the entire stock. It also comes with increased liquidity compared to normal stock.
Tinder is planning to introduce Tinder Coins to enhance the dating experience; to create something more than a 'Swipe Right'. They are also testing an idea wherein users can use their avatars and their actual voice while going on a virtual date.
Apart from the fact that Microsoft was one of the leading pioneers in creating a metaverse for their PS5 gamers, the tech leader in IT & Software is building up on other features for the metaverse.
Other aspects of investing in the Metaverse could be the Hardware, the Software, the Security, and Power. Focusing and investing in the backbone of the architecture of the digital universe is a great way to invest in Metaverses for a long-term plan.
Besides, not having invested in these may lead to sad news like no security or zero cloud space to store user data and record every legendary event that takes place in the meta world.
Alternate ways to invest in the metaverse includes ETFs and renting/ selling experiences. EFTs or Exchange Traded Funds are diversified assets that reduce your risks in trading. A platform to remember is the Roundhill Ball Metaverse ETF; which deals with ETFs in the metaverse.
Selling or Renting experiences simply imply having a business on a metaverse space, or renting your space to a business. This means the business has to pay you to rent the space it leases. You can also use hoardings and billboards to market your services and products.
Can I Buy a Land in Metaverse?
To own a business in the metaverse land may seem close to impossible only if you haven't heard of Decentraland. Decentraland is a metaverse platform that sells metaverse land plots called 'Parcels'.
Apart from Decentraland, which is a pioneer in selling land plots to avatars of the universe. Sandbox has also come up with its own set of parcels to sell to us digitalized beings.
Realtors and investors are being hyperaware of the fact that these parcels are being sold as NFTs. This means, that once sold, the sale is recorded on a decentralized blockchain and recorded in history.
A purchase of a piece of metaverse real estate on the blockchain, in turn, empowers the metaverse platform which later verifies the sale and transfer of ownership.
This is the same land that can be used – either for personal or professional reasons. One can set up their own business or rent it out to either a business or a hippie party. If you own a stage on Decentraland, maybe the next Justin Beiber concert could be in your place. You can lease out your land for varied reasons and make money out of it!
Ready Player One?
Summary
The Meta universe is a grand escape from reality and an experience of a virtual one. It brings in a new light on getting experiences without having to spend much money or time on travel.
The launch of this new world is much awaited by many tech-geeks and gamers. The technology behind this is being produced to ensure everyone has a realistic yet exciting way of life here.
Having avatars to meet for business meets, school, or travel are merely basic uses of the new alternate world inside the web. One can join the metaverse by simply creating their profile and creating their avatar.
One can invest in this digital reality directly or indirectly. You can either choose to buy stocks of companies that are making the metaverse or buy NFTs and land in the metaverse directly. These assets will be useful to lease land for virtual businesses and programs.
The meta-universe is a fantastic feature of Web3 and we can't wait for, but can you imagine the endless possibilities if the Metaverse is integrated into the 5th adaptation of the internet?
What do you think about the Metaverse? Will it really change the future of the internet? Let us know your thoughts in the comments below!