Do you know what's funny? Competition. While making this listicle I came across many NFT platforms that self-claim it's "#1". And it's impossible to have many "#1″s… So, let's demystify the confusion and look at the top blockchains for NFTs in 2023.
And we have only 11 blockchains out of the sea of blockchains that are present today.
What Is A Blockchain?
A blockchain is a layer protocol in web3 that contains and relays information in real-time. Blockchain technology consists of blocks containing data. Most of the data pertain to crypto-based transactions.
However, some data can be messages or information on digital assets. All this data gets relayed on the digital ledger with a timestamp and an encryption key.
Furthermore, blockchains can carry transactions as smart contracts when the pre-defined conditions meet. Essentially, blockchains carry the message of transfer for ownership.
Consequently, blockchains are necessary to run an NFT Marketplace (a decentralized platform). NFT Marketplaces are DApps that can handle data of NFTs and transactions about NFT transfers.
What Is An NFT?
An NFT is short for a Non-Fungible Token. A crypto token that is not replaceable and does not go under duplication. A crypto token that is one-of-a-kind.
This digital asset can be a picture, a photograph, a video, an audio, or a clip art. Heck, it could even be a tweet or a meme! That's right!
How? Smart Contracts, NFT Marketplaces, and Graphic Designers. That's how.
Smart Contracts contain an agreement on which a digital asset is passed on from one owner to the next. These smart contracts also contain the details of the NFT and the conditions in which the transfer occurs.
NFT Marketplaces are arenas where one can buy or sell NFTs. Alternatively, they can swap in for a trade and get a different NFT from a different collection if the trade condition permits.
Graphic designers are the majority of the creators of NFTs. Although, a singer, a dancer, or a painter too can sell their art as NFTs within the NFT Marketplace.
Features of Blockchains for NFTs
There are some features to consider when you are going to choose a blockchain for your NFT. Blockchains have to be considered carefully during NFT development and deployment for the following reasons:
Security – Blockchains optimize security through consensus protocols and encryption. Consensus lays out basic rules and regulations under which the blockchain will operate. All nodes mine the hash and validate the information.
Moreover, the SHA 256 encryption present in most blockchains ensures security. The hashes are almost impossible to crack and thus hack-proof.
All the transaction data and NFT data are secure within the blockchain network.
Transaction Speed – We're talking about NFTs! There are popular collections like the BAYC or the MAYC which get auctioned and bid for very quickly. Premium collections of Amitabh Bachchan or Cristiano Ronaldo.
Consequently, a true fan would go ga-ga over it. Collectors who have a habit of collecting collectibles would definitely keep an eye out for it.
Eventually, when you try to buy your favorite NFT, you want to make sure you get your hands on it before anyone else. Thus the importance of transaction speed.
Transaction Costs – Blockchains are peer-to-peer networks that incentivize the validation protocol. The transaction fee one pays becomes the validators' salary/ rewards.
Now, with NFTs being rare and thus valuable. You would have to pay for the creation and minting of NFTs on the blockchain too. Apart from the transaction fee that is.
This is why most of the NFTs are sold at a price close to or lesser than 0.5 ETH.
Smart Contract Functionality – Although blockchains may be a medium to conduct ownership transfer of NFTs, Smart Contract ensures that the NFT data and the transaction details are secure. Smart contracts allow for the transfer of ownership to occur under pre-determined conditions.
Moreover, smart contracts are self-executing automated code lines that function upon meeting the conditions. It also robotically relays an encrypted message to update the digital ledger.
TOP 11 Blockchains For NFTs In 2023:
The list below provides a brief on each blockchain. For those who want to save time scrolling, the top 11 blockchains for NFTs in 2023 are as follows:
Ethereum
Yup, the idea from a 19-yr Russian-Canadian is at #1 on this list. Well, you and I both can be undeniably in awe that this platform does so well and strives to reach perfection.
Currently, the platform uses a POS consensus mechanism. Validators stake their cryptocurrencies. Validate transactions based on how much they staked.
The Ethereum blockchain network is a vast, secure, and easy platform to participate in.
Furthermore, the ETH blockchain hosts many NFT collections. A famous example of an NFT collection is Bored Ape Yacht Club or BAYC.
Consequently, many NFT Marketplaces deploy their smart contracts on the Ethereum blockchain in recent years.
And since everyone knows Solidity, the language is all more favored by smart contact developers and NFT marketplace designers.
Finally, a mention of the ERC721 standard is a must. The ERC 721 standard guides a creator to create a DApp, or more specifically an NFT Marketplace that is compatible to run in the Ethereum habitat. OpenSea, Rarible, & Decentraland are examples that use the ERC 721 standard.
Solana
The Solana blockchain is one-of-a-kind. It uses the Proof Of History consensus – an evolved form of the POS command.
Furthermore, the consensus uses cryptography that determines the time elapsed between 2 events. The timestamp is assigned to each transaction, and the order of transactions is traceable.
Moreover, the SOLs' blockchain has the fastest TPS of ~2000. It also has a cheaper gas fee, a bigger block size, and a fast block-creating time.
However, a Solana wallet such as Phantom is necessary to ease the process of buying, selling, and trading NFTs. NFT exchanges such as Magic Eden can provide a list of NFT collections such as 'Great Goats' that's available for you from the fastest digital ledger ever to exist.
Not to forget, Solana hosts more than 400 projects for DeFi, NFTs, gaming, and many web3 applications. It is easily one of the best blockchains present for you to get your NFTs.
Get your NFTs QUICKLY! Don't miss them!!
Avalanche
Now, Avalanche may not be as popular as Ethereum or Solana; but it makes the list for certain reasons.
Firstly, it's an upcoming NFT space as a market and as a blockchain. You can mint, sell, trade, and buy fancy digital art on this POS blockchain.
Secondly, to speak of the native token, AVAX rewards its validators and allows users to create a wallet within the ecosystem. Alternatively, one can use the most common and trusted wallet – Metamask.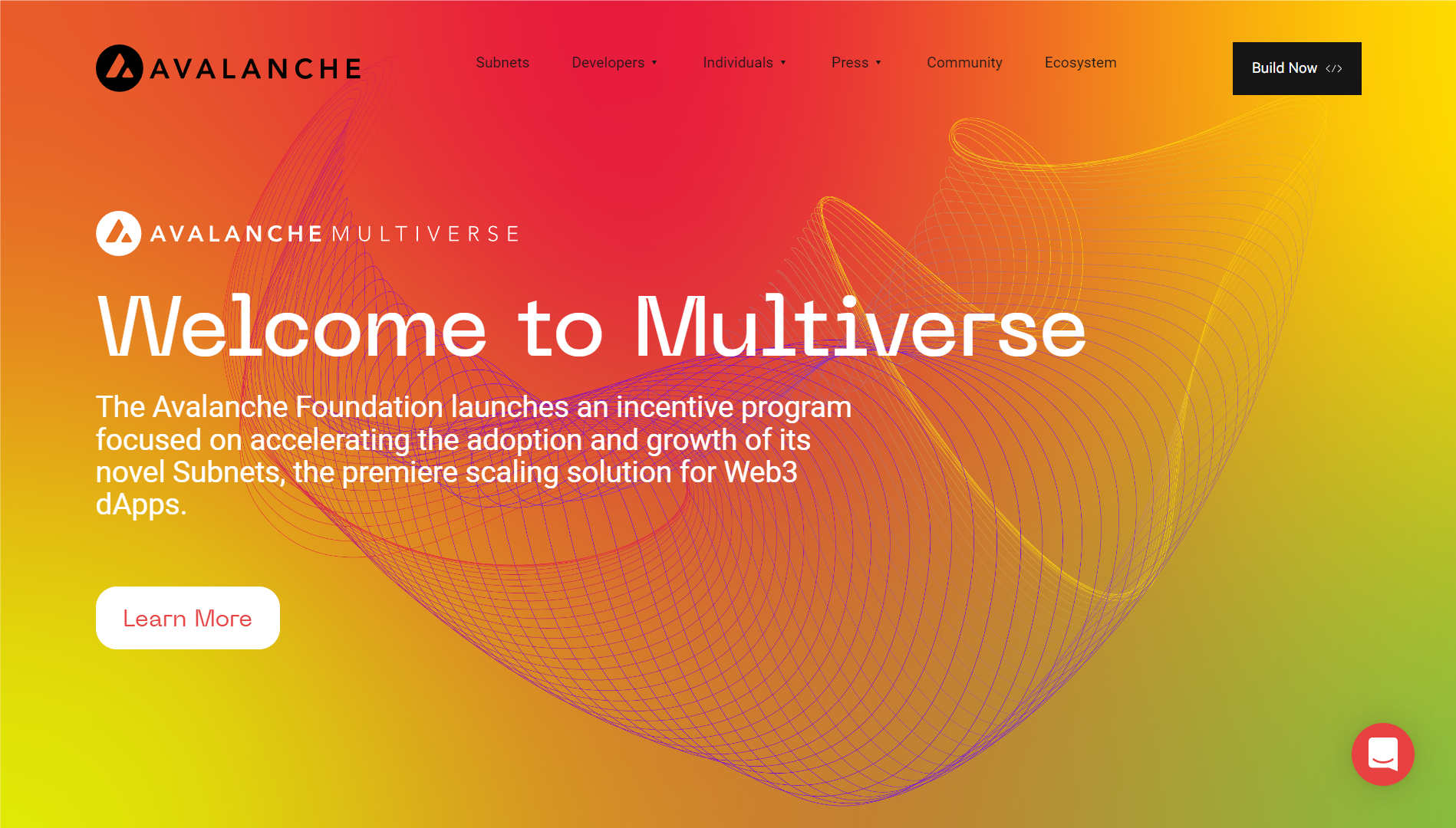 Furthermore, NFT sales on Avalanche are mostly by Play 2 Earn (P2E) system. Games such as Crabada, and DeFi Kingdoms have become popular quickly. Playing games to earn is a great way to hit your dopamine system when it rewards you for being a child and having fun!
Also, speaking of fun, here's a quick update: The famous DeFi Kingdoms which are on Harmony are coming soon to Avalance.
Fun, ain't it? 😀
Polygon
Truthfully, not one of the best blockchains to operate a DeFi app or launch the NFT Marketplace. But, one can be sure that the blockchain performs better as a replacement for Ethereum.
And yet, Polygons' top advantage over Ethereum would be the No Gas Fee feature.
All the more, OpenSea, one of the biggest NFT platforms present has Polygon-based NFTs in its marketplace. And thus, the Polygon blockchain makes its place as one of the best for NFT creators present today.
Binance Smart Chain (BSC)
Although #1 on our list today, Ethereum has many problems. Some users have made to switch to less expensive and even faster alternatives.
Nonetheless. the Binance Smart Chain specializes in smart-contract-based applications and interoperability with the Ethereum Virtual Machine (EVM), all while retaining quick transaction times and having affordable gas costs.
Moreover, the Binance Smart Chain blockchain competes against the Binance Chain (BNB) network. BSC can handle different types of Ethereum DApps and tools due to its EVM compatibility, creating opportunities for both consumers and developers.
Along with its native cryptocurrency, the Binance Coin, the Binance Smart Chain also supports token standards like the BEP2E token and the ERC-20 token (ETH).
Flow
For a fairly new blockchain, it's done pretty well so far. And thus a deserving spot on the list of top 11 blockchains for NFTs!
The blockchain got a developers' dream features such as seamless UX, flexibility, and interoperability, quick, and is made with scalability and speed in mind. And when we mean speed, we mean ~10,000 TPS. With a flow fee of 0.001 Flow [that's really less!!] And with such features, Flow makes a great blockchain for P2E games and collectible NFTs.
Additionally, Flow adopts the Cadence Programming Language. And Candaence makes it versatile to make NFTs, Marketplace developments, and have a smooth UI. Flow uses the POS consensus.
But Flow's validation model differs from other blockchains in that it divides validation activities into four categories of nodes: consensus, verification, execution, and collecting. Each transaction is validated by one of the four node types.
Furthermore, a unique feature of this blockchain is the upgradable smart contracts.
Cardano
I know you'd wish for someone to stop the hype about this blockchain, but let me tell you how it is going to be: Not. A. Chance!
There's no way one can not speak of Cardano. The blockchain, the consensus, the ADA token… It's all simply wonderful and carefully designed by scientific principles and methodologies.
This blockchain is constantly evolving to become something better.
Running on the POS consensus, it's simply one of the top 11 blockchains we have today for minting NFTs, buying, selling, and trading them.
Immutable X
You've probably heard of this platform as a gamer, but did you know they have NFTs too?
Being 'Powered by StarkWire and secured by Ethereum' blockchain, the Immutable Xs' NFT Marketplace is one of a kind. It's for gamers and NFT collectors alike.
This layer 2 blockchain supports NFT development and takes pride in 2 main features:
Carbon neutral platform
0 % gas fee while minting
Tezos
BAM! Here's a surprise you probably didn't expect!
But, hey, it's on the list for a reason – an amazing non-fungible reason!
The speed, functionalities, self-improving ability, and much more makes it a great blockchain to deploy your NFT marketplaces and buy/ sell/ trade NFTs from.
Consequently, auto-upgradation of the platform, decentral government structure, and 'liquid proof of stake' consensus are more reasons why developers love to create DApps on the platform.
What's more, Tezo coins (Tez) aid in governance, and being in the position of TEZ benefits you from lower gas/ transaction fees. And coming to transaction speed, Tezos can carry 40 TPS with a cost as low as a penny per transaction.
Do you know what's lower than that? The incredibly low minting prices!
And finally, Tezos has an FA2 standard. A special token standard helps to mint NFTs.
Would you need more reasons to work with Tezos? I think so not!
EOS
The EOS blockchain is often thought to be in competition against the Ethereum blockchain. When initially launched by Blockchain.one, the EOS did pretty well. It even got a record-breaking ICO from new owners and investors alike.
Despite the crash later, the blockchain bounces back and aims for industrial-level scalability, decentral identities, and a server that can support 100,000 TPS without transaction/ gas fees.
Although it works well with a POS consensus, TAPOS is a characteristic feature of the blockchain. Consequently, TAPOS strengthens the POS mechanism already present.
Wakatta is a substrate-based blockchain, i.e. a customized blockchain made with a purpose. It is a one-of-a-kind blockchain made for NFT entertainment. The WKT token helps in the governance of the digital ledger.
Moreover, the blockchain is Polkadot-compatible, with ERC 721 & 1155 standard tokens to aid designers to have a smooth experience.
Although the fairly new DLT environment went live with its testnet in November 2021; Sensorium has integrated the Wakatta blockchain into their metaverse!
Moreover, Wakatta from Sensorium presents to you not just NFTs but Smart NFTs! NFTs that are non-hashed, Timed & Upgradable.
Upgradable NFTs mean NFTs continuously evolve. An artist can work on the present NFT and upload a newer version.
The non-hashed feature permits designers to save text scripts directly on the contract without coding a single line.
The administration of the metaverse's players, from consumers and content providers to developers, businesses, and investors, can be facilitated by non-hashed NFTs.
Wakatta is an apt platform for luxury NFTs for gaming, sports, fashion, and art.
Summary:
There are many blockchains and more NFT collections to showcase. However, there are only 11 blockchains that work well in the POS consensus to deploy NFTs and host NFT marketplaces.
So, amongst the sea of blockchains, our top 11 blockchains are: Ethereum, Solana, Avalanche, Polygon, BSC, Flow, Cardano, Immutable X, Tezos, EOS, and Wakatta.
Get to know your top NFT Marketplaces today! And if you are interested in making an NFT Marketplace of your own, feel free to contact us. Let's create an NFT together with your idea and our NFT team!